You may not recognize the names of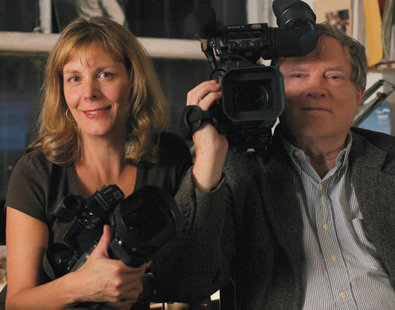 D.A. Pennebaker and Chris Hegedus at first, but you've undoubtedly seen some of the iconic images from their 40 year plus career in filmmaking.
From the notorious portrait of a young, radical Bob Dylan in Dont Look Back, to the wild and cutthroat world of French confectionery pastry competitions in their latest feature King of Pastries, D.A. Pennebaker and Chris Hegedus have become staples in the world of documentary filmmaking for their engaging material and innovative cinema vérité style that gives viewers an unfiltered, in depth look at the world of their subjects.
Last night at the SILVERDOCS Documentary Festival, Pennebaker and Hegedus were honored at the festival's annual Guggenheim Symposium, an awards ceremony honoring legends and pioneers of documentary filmmaking.
"You won't live forever, but your films will" remarked Senator Al Franken, one of the evening's special guests who gave a subtlety hilarious, yet mildly hindered introduction of Pennebaker and Hegedus. Senator Franken was the subject of one of the duo's most popular films, Al Franken: God Spoke, about Franken's highly publicized dispute with Fox News's Bill O'Reilly.
After a 20 minute retrospective video presentation of their career, former NPR Weekend Edition host Liane Hansen moderated an intriguing and introspective discussion with Pennebaker and Hegedus about their filmmaking career and the hardships they've faced along the way.
"We don't know the end of our story, that's why it's so hard for us to raise money!" Pennebaker joked about the difficulties of financing their films. Yet, there is great truth to Pennebaker's words, as making a great documentary isn't something you plan on, you have to document everything and find the story within that reality.
Amusing anecdotes and insightful wisdom on the art of their craft had the audience more than engaged during the half-hour moderated discussion. After which, we were treated to a special sneak peek of a scene from Pennebaker and Hegedus' latest project, the restoration of lost footage they were putting together for a never-before-seen documentary on the great Russian composer Igor Stravinsky.
D.A. Pennebaker and Chris Hegedus are one of cinema's most revered filmmakers, whose films represent the most honest and intimate portraits of some of the most interesting and enigmatic musicians and politicians of our time. If you're unfamiliar with their work, I'd highly suggest checking out some of their most prominent and highly-acclaimed films including Dont Look Back, Monterey Pop, Town Bloody Hall, Ziggy Stardust and the Spiders from Mars, The War Room, Startup.com, and of course Al Franken: God Spoke.
---

Matt is currently obsessed with Rap Snacks, post-hardcore, pizza parties, and Carl Sagan's Cosmos.
All author posts