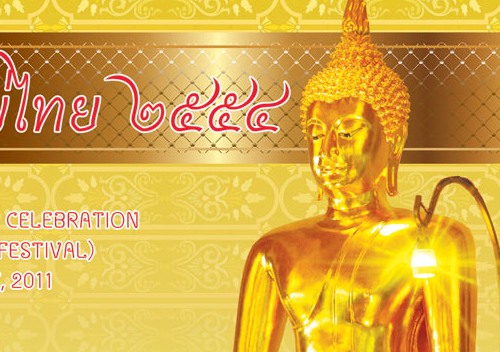 Last Sunday, I and a few friends, channeled our inner Asians to attend the Songkran Thai New Year Festival in the district. (Not to mention, it was a week when I had my last Pad Thai and I was craving it like a mother.)
Now for those of you observant folks staring befuddled at your calendar of April, no, Thailand did not get it wrong. Their new year's day is celebrated traditionally in April—at least that's what it says on Wiki.
The festival was located on the grounds of a Thai Temple that housed a beautiful alter. There, I took a moment to pray for my family, friends, and some date-able men in DC. (Because girls sometimes it takes a village…and a miracle.)
It was a beautiful, sunny day, and thousands of my fellow Asians attended the festival! While I was happy to see them outside our weekly club meetings, they just made the food lines annoyingly long. Seriously, I waited 30 minutes for some mussels and eggs (delicious by the way), and spent considerable time trying to convince the five year old ahead of me that he wanted chicken skewers at the next vendor.
When I saw the line for Thai Ice Tea a mile long, I almost cried like a baby, but immediately perked up when I came by a gold jewelry vendor. Look at all the shiny necklaces and bracelets!
Most of the pieces were $75 and up. Unfortunately the lady did not take credit cards. And because I don't roll around gangsta with wads of Benjamins, I had to say goodbye to the pretty ankle bracelet I loved.
Finally, I harassed a few nice folks into taking their pictures. Some outfits that I loved for spring:
| | |
| --- | --- |
| | |
| Cool in leather and harem pants | Darling in red and stripes |
| | |
| | |
| Hampton wear in the city | |
---

Mei Tan is currently obsessed with lace-up booties, anything by Marc Jacobs, sleeping in until noon, and "winning."
All author posts