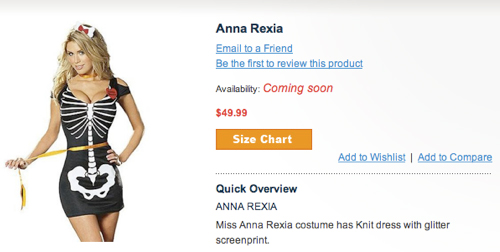 Specialty retailer Ricky's, known for their collection of unique beauty and fashion supplies such as neon wigs, hair products,  graphic tees, and makeup, has decided to discontinue their popular but controversial "Anna Rexia" Halloween costume.
The tongue-in-cheek costume is complete with a black, tight fitting dress that features the glittery outline of a skeleton and a belt that looks like measuring tape.
Ironically, the outfit was cut for a more curvaceous body type.
In response to the costume, William Walters of the National Eating Disorders Association told the Village Voice, "It makes light of something really serious," he said. "It's hard for us to find it funny."
What do you think? Is the costume funny or does it cross the line?
---
Rhi Strayer is currently obsessed with Jeffrey Campbell shoes, sparkles, studs, and anything having to do with Lady Gaga.
All author posts