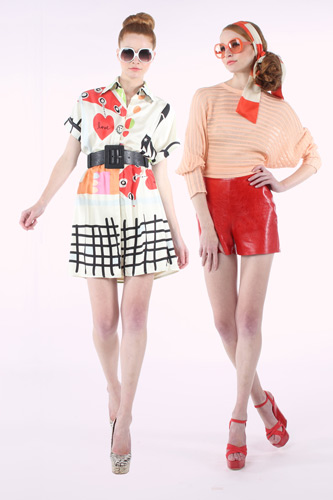 For all of you girls who believed you were born in the wrong decade, Stacey Bendet, designer of the famous clothing brand Alice + Olivia, is here for you.
Her new collection mixes the glamour of the 1920s and the peace lovin' vibes of the 60s. As you browse through the Spring 2012  Alice + Olivia ready to wear collection, you see imprints of the Jazz era reflected in the elegant gowns, along with the short hemlines and carefree silhouettes often associated with flappers and their crazy nights out on the town.
Fast forward a few decades and Alice + Olivia has designed wide legged bell bottoms, brightly colored blouses and retro-inspired print dresses.
Bendet's new collection is flirty, sophisticated and feminine, and takes the best part of each decade.
Take a look below:
[galleryview id=52]
---
Rhi Strayer is currently obsessed with Jeffrey Campbell shoes, sparkles, studs, and anything having to do with Lady Gaga.
All author posts