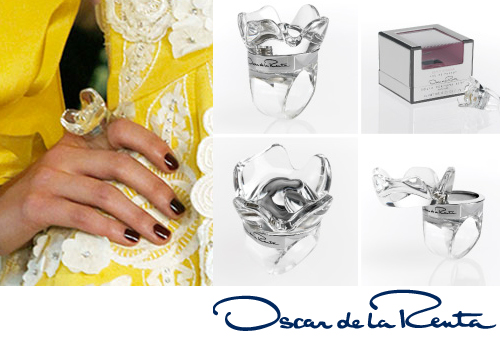 I love it when fashion and beauty collide, which is why I plan to snag this right-from-the-runway solid perfume ring ASAP.
Available only on Facebook, the cool, chunky cocktail ring was worn as part of Oscar de la Renta's Spring 2012 collection. The scent inside—Esprit d'Oscar—is a citrus/sandalwood/ tuberose mix, and I'm excited to see what it's like as a solid.
But really, I just want a piece of the 2012 collection, one that doesn't break the bank. I mean, I'd love to crash a party wearing this amazing evening gown, or spend an afternoon lunching in this super cute crocheted dress. But sadly, Oscar de la Renta's Carrie Bradshaw-esque couture does exist in the same world as my wallet.
So, I'll happily settle for this sweet smelling, super stylish ring instead.
---

Susan is a freelance writer, born and raised in NYC and currently based in Brooklyn. She's the senior beauty editor for Meets Obsession, and also writes for online publications such as Mamasarollingstone.com, TueNight.com.
and The Huffington Post. Susan had a serious candle hoarding issue that she has no plans to address. She's currently obsessed with Marc Jacobs' new beauty line, her black Zara moto jacket, and Aaron Paul.
All author posts