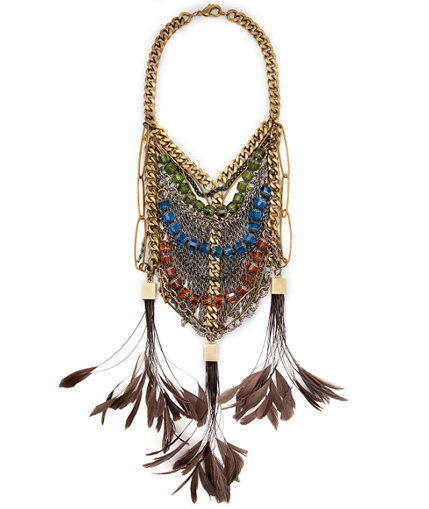 Fenton's SS 2011 collection, which consists mostly of chokers and bibs, is a mixture of varying textures and colors created by various materials such as fluorescent chain links, mini voodoo skulls, eccentric pendants, tassels, feathers, and even fur. One could stare at each piece for hours, often noticing a new element that you missed before.
Fenton was created in 2006 by designer Dana Lorenz. And thanks to her exposure in the fashion industry, Lorenz's launch was catapulted by an article in American Vogue.
According to the Fenton website, each of the pieces "are strong statements and each are little worlds all their own."  One can totally agree with this statement after browsing through her most recent collection and even collections from the past.
Lorenz has received many accolades for her talent and was named a nominee for the 2010 CFDA Swarovski Accessory Designer of the Year Award. Lorenz also produces another line, Fallon, which is a contemporary collection of jewelry sold at more affordable price points.
Currently, Fenton does not have an online shop, but can be found at select Barney's and other stores worldwide.
Tags:
Dana Lorenz
,
Fallon
,
Fenton
,
SS2011