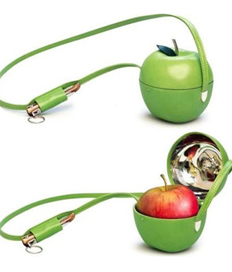 High fashion fruit; at least that's what Hermés seemed to be going for with their new Apple Purse.
Fashioned in the shape of a Granny Smith Apple, the green lambskin leather bag opens in the middle, and is solidified in its apple shape with a leaf and stem on top.
Inside, a stainless palladium case protects your cargo from being squished or smashed.
Because really, who wouldn't want to carry a .99 cent piece of fruit in a $365 bag?
Hermés, which hit the (apple?) on the head this season as runways were filled with fruit couture, added a little something special to their design.
For the fashionista that doesn't mind sharing her goods, the Apple Purse comes equipped with a knife holder and actual knife, meant for cutting the apple inside.
And with that, high-priced, luxury fashion truly meets function. What will they think of next?