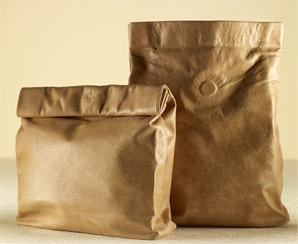 Style mavens all around the world are starting to bring their lunch to work.
Actually, they're just carrying Marie Turnor's latest clutches.
The Los Angeles based line from designer Beth Goodman was inspired by the simplicity of a brown paper bag.
"I was inspired by seeing an elegant woman walking down the street in Paris carrying a paper bag," Goodman told the Los Angeles Times. "The bag happened to be red and, in my mind, I saw it as a clutch. So I found a soft, but papery leather to make it out of."
And it worked, as Goodman's clutches look exactly like bags you would carry your lunch or a snack in. Yet Goodman's choice of leather and design make the understated clutch look simple and classic – perfect for everyone.
The clutch comes in three sizes; Snak ($115), Picnic ($175) and Dinner($220) and it's only a matter of  time before the most fashionable mothers mix up their bags with the lunches they've packed for their children.

Tags:
Beth Goodman
,
Clutches
,
Marie Turnor