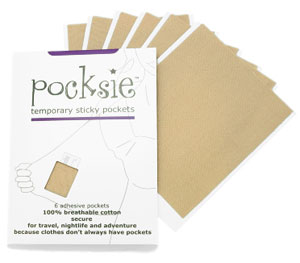 Don't you just hate it when you wear an outfit that has no pockets?
And let's face it, purses are cute but can sometimes require too much commitment.
Needless to say, we were tickled (almost pink) when we found Pocksie from Solutions that Stick.
Pocksie is basically a temporary stick on pocket that you can add to any outfit. All you have to do is just peel back the pocket from the wrapper, stick the pocket on the inside of your jacket, and off you go!
You can purchase Pocksie in a pack of six for a reasonable $9.99 here.
Finally! A solution for those times when I just want to carry a credit card and lipstick.
Tags:
Pocksie