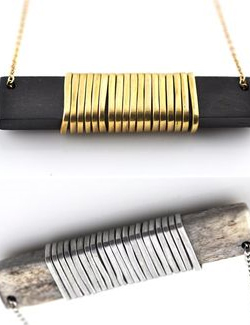 Discarded parts of a cow don't exactly sound fashionable, clean or safe.
But Los Angeles based designers Maxandra Short and Amy Walker use cow bones and other unexpected materials in their jewelry line, Kora.
The two-year-old line, whose name means "work" in Kinyarwanda, Rwanda's native language, specializes in making beautiful jewelry out of uncommon and recycled materials.
Benefiting several communities in communities in Africa, the line commonly relies on horns and other discarded parts of cows, as well as metal from old pots, pans and car parts.
Their most recent venture and eco-friendly experiment is in the form of  a collaboration collection with "The Girl With the Dragon Tattoo" actress Rooney Mara.
The designers and Mara created a necklace for Uweza, a charity that works to help families in Kenya, the same area where Short and Walker commission a group of artists to create Kora's unique products.
"We wanted to do something related to the area we were working in," Short told the L.A. Times.
Enter the cow bone, as the necklace is a series of discarded metal formed into rings, tightly wrapped around an Ankole cow bone.
Eco-friendly, charitable and fashionable; what more could you ask for?