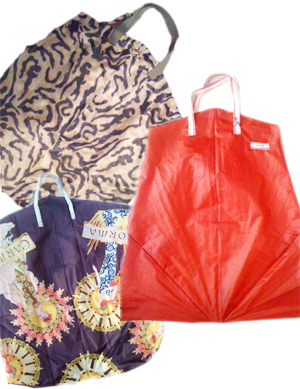 Bags made from broken umbrellas are one of the coolest things I've ever seen in DIY fashion.
Sounds so simple and yet I never would have thought of it—or imagined that the process could produce some seriously slick and stylish sacks.
"There are some INSANE prints for umbrellas out there that you would never find in a fabric," says Nora Killoran, umbrella-bag maker extraordinaire and leader of the Broken Umbrella Salvage I attended at Spacecraft in Brooklyn.  "So it's always a surprise to see what kind of a creation you'll come out with."
Unless you can't sew for sh*t (i.e. you are me), and decide to observe rather than accidentally attach your own sleeve to the sewing machine. Which was a smart move on my part.
But while making one of these repurposed totes might be a challenge for yours truly, for most folks, it's simple.
First, find broken umbrellas. "You need a rainy day, or even better, a rainy and windy day," Nora explains. "Scour the city and you're sure to find some."
Next, cut out the cloth. "Use a seam ripper to detach the material from the frame of the umbrella. This usually takes about 15 – 20 minutes."
And finally, sew. (No instructions here. If you're already good at this, go for it. If not, learn.)
Nora has been making these bags for nearly four years now, and in addition to creating some seriously cool carryalls, it's also work she feels really good about. "My motivation is to increase awareness amongst friends and family about recycling, reuse and waste," she explains. "We can decrease that amount so simply on an everyday basis just using a reusable bag."
Another umbrella-bag plus? "They're free!" Nora exclaims. "There's no need to buy any fabric. Also, the Velcro piece which is used to close the umbrella can be used to fold the bag into a little ball to keep it in your purse for easy access."
Are YOU interesting in getting involved? If you're in the NYC area, "Spacecraft is a great resource because they have all the tools you need, and they have meet ups like Sewing Rebellion," says Nora, who, in addition to teaching at Spacecraft also works with bagsforthepeople.org.
"The Fixers Collective is another good organization for repurposing materials and creatively reducing waste," she adds.
I'm so totally impressed and truly plan to try my hand at making my own bag soon (after some serious sit-down time with a sewing machine). My friend Gaby made a totally cute cosmetics case and naturally, I want to make one, too.
Until then, I will grab broken umbrellas whenever I see them.  And right now, post the October 29th "Snowpocalypse", that's almost everywhere.
Tags:
Broken Umbrella Salvage
,
Nora Killoran
,
Spacecraft