Clockwise top left to bottom left: Charlotte Martyr, Charlotte Martyr,
Shadowplay, Rebecca Schiffman.
I don't know about you, but my favorite gifts to give and (mostly) buy for myself tend to be strange pieces of jewelry. Which is why I'm an extremely happy camper these days, what with all the amazing designers you can stumble into debt upon on Etsy and Fab.com.
Admittedly, it can be a bit much to sift through all of the people selling fake Swarovski wire earrings, but it's well worth it once you do hit the motherlode of raw crystals and chain cuffs. To make your job easier in this season of gorge shopping, here are six of the best new designers I've seen while clicking around the interwebs.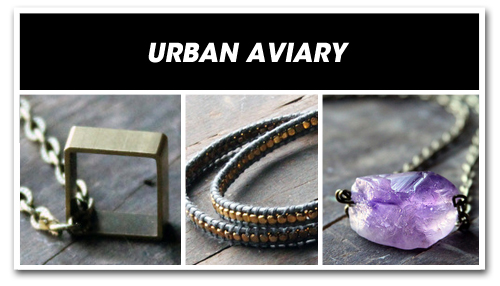 Urban Aviary was started and continues  to operate out of designer Samantha Bird's house in Delaware, and since 2008, has been marrying geometry and nature in simple, striking pieces. And it's also super cute. Super cuteness is highly important. While their metal pieces are certainly covetable, the raw gemstone necklaces are definitely standouts, and beg to be layered.
Favorite Piece: Amethyst Chunk Necklace, $35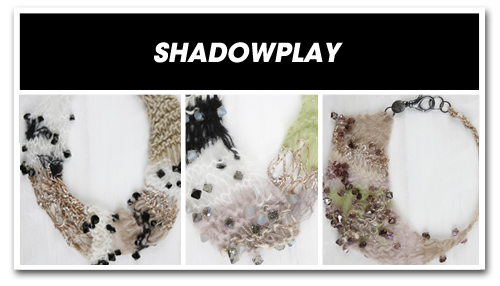 Shadowplay's mix of yarn and crystals isn't for everyone (one of my friends actually sniffed at it), but they totally pulled off the Rodarte-esque crazy-mixed-knits thing. The pieces are a break from traditional chain-and-charm necklaces or heavy bib pieces– look like gem studded cobwebs, and if you put your mind to it, you'll find these pieces are quite wearable.
Favorite piece: Harkness necklace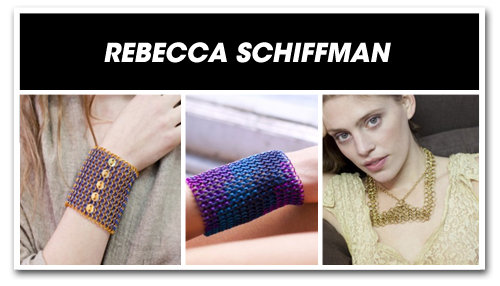 Rebecca Schiffman is a self-taught jewelry maker (jealousy) and musician (more jealously) who interned for Proenza Schuler (and I'm giving up because it's too much jealousy).
Her UES collection is inspired by architectural elements of New York's Upper East Side (think silver versions of all the pretty building details everyone misses–hares, flowers, fences) and is borderline genius, and her IMK collection is an equally lovely study of chainmail and art.
You can buy her designs, albums, or Rebecca herself for a night (to play music, people, music) through Kickstarter and at Henri Bendel, but she also has a gorgeous website that showcases her jewelry and music as well if you want to ogle.
Favorite Piece: Blue Wave Cuff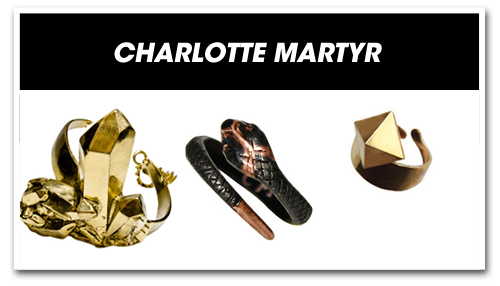 French designer Charlotte Martyr's pieces are just tough enough: no jutting spikes to impede everyday activities like blowing up balloons and petting dogs, just an expensive seeming coolness and heaviness.
Best part is, her pieces aren't crazy expensive–the website prices are in Euros, but they work out to $35-$270 USD for a range of faceted metal pendants and bracelets, earrings and necklaces that look like the Nazca lines and an awesome little snake ring. Well worth it, if you ask me.
Favorite Piece: Black Mamba Ring, 32 Euro ($43)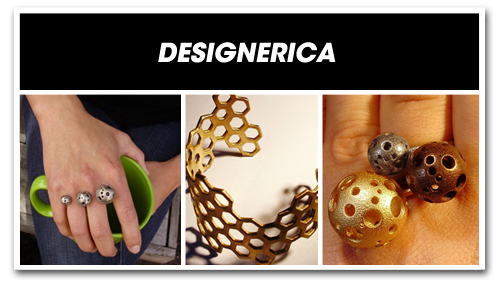 Currently, Erica Schwartz's Designerica is based exclusively on Etsy, but with a fab.com sale (which I totally patronized) under her belt, it's hard to imagine the Brooklyn-based designer not getting big enough for her own digital place very soon.
Her moon rings, which come in a bunch of different finishes and sit in between the fingers, are amazing looking and amazingly priced. Plus, she has a great power button ring for all us computer and Xbox affectionate people.
Favorite Piece: Triple Moonball Ring, $60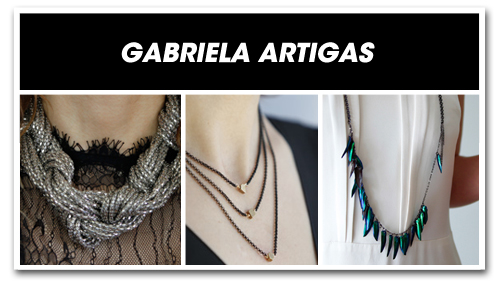 My favorite Gabriela Artigas pieces are the tea rings, but those don't really do her collection justice (though mark my words: mid finger rings are the next big thing).
Gabriela started her jewelry career making cuffs out of toothbrush handles in her native Mexico City, and has since moved on to delicate gold rings, heavy chain necklaces and chain bows that look like organza ribbon. And she still sells the toothbrush cuffs.
Favorite Piece: Raven Geometric Studs Triple Necklace, $90