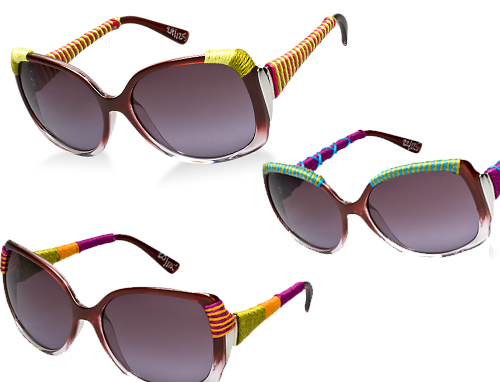 Sunglass Hut International has been the world's premiere retailer of designer frames for almost 50 years.
Now, Maga Sayeg, the founder of "knit graffiti," and Knitta has teamed up with the retail giant to create a line of sunglasses for the retailer's Artist Series IV.
Sayeg is the brain and hands behind "yarn bombing" or "knit graffiti," a medium that incorporates yarn into unexpected objects to create a colorful and original work of art.
Sayeg is known for her inventiveness with knits, and the Sunglass Hut had commissioned her to create a line of 100 original Vogue frames.
The line also will donate $30 of each $130 purchase towards the One Sight Initiative, a cause dedicated to the prevention of optical disease.
The eye-catching eyepieces are ornamented with bright yarn, in several patterns, shapes, and colors. The asymmetrical frames offer fun patterns created by funky threads.
Each frame also comes with a certificate of authenticity, and for a personal touch the artist herself signs each piece. In response to the collaboration and being chosen for the Artist Series IV collection, Sayeg has said:
"It's an honor. It's been incredible and I'm happy to be a part of it. It's always fun to expand my horizons in terms of my art and dabble in the world of product design and be an example of it."
Hopefully, this isn't the last of Knitta's fashionable endeavours.
Tags:
Knitta
,
Maga Sayeg
,
Sunglass Hut International