credits : Henry Clarke /
Galliera / ADAGP, Paris 2010
For a half-century, the legendary designer Madame Gres had successfully established herself as a legendary couturier of sensually draped dresses, those of which fit to the silhouette of a woman's form as if it were her own skin.
Now, just seventeen years after Gres's death, the designer is getting the recognition she deserves.
Through August 28th, Gres's creations are springing back to life at the Musée Bourdelle in Paris, where nearly 80 of Madame Gres's designs will be put on display in the retrospective, Madame Gres: Couture at Work.
Born under the name of Germaine Emilie Krebs in Paris in 1903, she initially began her career working as a sculptress, and was unsuccessful.  She soon dropped sculpting and her birth name (going by the pseudonym Alix Barton) and turned to the art of fashion. "I wanted to be a sculptor," Gres once remarked. "For me, it's the same thing to work in fabric or in stone."
It wasn't until 1942 that Gres decided it was time for yet another name change as she wanted to open new fashion house.
The alias she chose was fashioned from the Russian painter and husband at the time, Serge Czerefkov.  She would be forever known as "Gres" the name of "Serg" spelled backwards.
This alias became the name of her design house and her signature moniker, and stuck with her for the remainder of her life.
Gres used her sculpting skills to drape, cut, pleat, twist, and braid the fabric of her dresses so that they melted into a woman's silhouette.
Gres's dresses were never too extravagant, nor were they too simple. And none of them had a corset that was typically designed into dresses by dressmakers.
Instead, Gres, like the famous Coco Chanel, decided to re-write for herself the dress code by which women had been living for centuries. She cut-out certain spots on the gowns to make the showing of skin part of the overall design. The lasting effect was a sophisticated sensuality that had become Gres's signature design.
The designer's signature style was first born when Gres opted to design Hellenic costumes for Jean Giradoux's play La Guerre de Troie n'aura pas Lieu (The Trojan War Will Not Take Place) in 1935. She soon became infatuated with Grecian-styled gowns and incorporated the Greek aesthetic into her future works. "Perfection is one of the goals I'm seeking," Gres once said. "For a dress to survive from one era to the next, it must be marked with an extreme purity."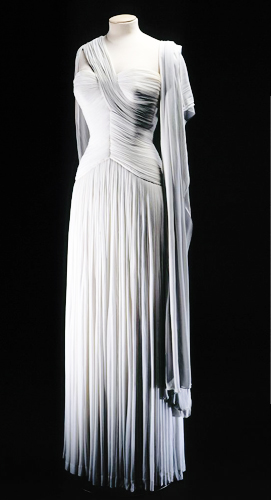 Although details of her life are cloudy to the public (even her death was kept from the public until a year after she had passed), Gres had made a name for herself in the world of fashion.
She was known as being Paris's most precise designer of haute couture, and resisted the industry's pressure to make a ready-to-wear collection that she described as "prostitution".
No, Gres preferred to work directly with her clients and had customers of celebrity status such as Greta Garbo, Vivien Leigh, Dolores del Rio, Jackie Kennedy, and Marlene Dietrich.
The exhibition honoring the legendary designer who Vogue once called  "the greatest living couturier," will feature 84 of Gres's most alluring designs.
The retrospective includes 100 drawings and 50 photographs taken straight from Gres's archives, and is displayed in a setting fit for Greek goddess that is made up of luscious gardens and statues by sculptor Antoine Bourdelle.
Treat yourself to a pilgrimage through the history of a cutting-edge designer, get lost in the purity of the silhouettes to learn how fashion can be art, and take a journey through the only part of Gres's life that she openly and brilliantly shared with us.
Madame Grès: Couture at Work. Musée Bourdelle, Paris. Through August 28. www.bourdelle.paris.fr
---
Rhi Strayer is currently obsessed with Jeffrey Campbell shoes, sparkles, studs, and anything having to do with Lady Gaga.
All author posts