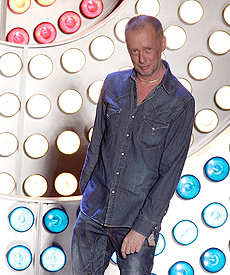 Galliano, Galliano, Galliano… caught between pity and disgust, the fashion world has hit a stalemate with what to do with this savant turned rehabbed designer.
Earlier this year, the shamed fashion icon was fired from Dior and his eponymous label "John Galliano", and last week, he stood trial for his anti-semantic rant that took place at a Parisian café in February.
It was only a week ago, when New York Times fashion columnist Cathy Horyn speculated rumors that LMVH might reinstate Galliano.
Well, the speculation is over.
Christian Dior CEO Sidney Toledano has hand-picked Bill Gaytten as the new creative director of "John Galliano", taking the position previously held by Galliano himself, before his meltdown.
Bill Gaytten is a longtime friend and associate of Galliano and made his first appearance this past Friday as "John Galliano's" creative director during the fashion brand's Homme Menswear Spring/Summer 2012 show.
Gaytten will also oversee next week's Christian Dior couture show in Paris, although there is no word yet on if he will take a permanent seat as Creative Director of Dior.
Only time will tell, but one thing is certain, Gaytten has HUGE shoes to fill.
---

Saron is a writer and student born in Ethiopia and raised in Washington, DC. She is incapable of keeping a phone for longer than a few months, exclusively wears Miss. Dior Cherie, and her guilty pleasures include any novel written by V.C. Andrews (don't judge), Essie's "Little Brown Dress", and Stoli. She is currently obsessed with the poetry of Edmund Wilson and The Arctic Monkey's latest album "AM".
All author posts