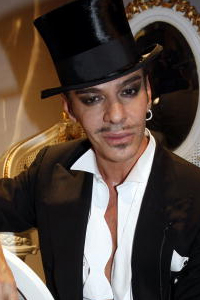 Out of Dior. Out of Galliano. Out of rehab.
Where, oh where, can John Galliano go from here? WWD, in a recent article, rightfully asked: can he make a comeback?
While known for his visionary and awe-inspiring designs, Galliano's brilliance is undeniable to those in an industry that continues to laud craftsmanship, artistry and beauty.
However, times, they are a changing.
With fierce competition and the quest to expand a consumer base, the fashion industry is nevertheless a business industry that commands more than $20 billion in annual revenue. Indeed, to secure a tenable foot in the door, the strategy to brand fashion houses to compete for buyers have created a market where consumer purchases are based on a designer's image as much as the clothes.
Quintessentially, if a designer wants staying power in today's industry, he needs to be liked—not just talented.
This brings us back to the question of Galliano's dubious return.
If we were to examine the history of public sentiment towards celebrity racial gaffes, the conclusion does not bold well for Galliano. Take the career of once-famous-now-infamous, Mel Gibson who was denounced by the public for his anti-Semitic remarks—his career never rebounded, even with critically acclaimed films like Apocalypto and The Passion of the Christ. Or take Michael Richards who played Kramer on the hit sitcom, Seinfeld—his public persona remains tarnished today, five years after he had used the N-word in referring to African Americans during a show.
However, Gibson or Richards never attempted to reform their public image, at least not in a meaningful way that would lead the public to believe that these celebrities learned their lesson. And this might be the lesson that Galliano needs to learn before he returns to fashion.
While Galliano has issued a public apology, it was riddled with excuses and absent of a basic understanding about the detriment of his words. Simply put: it is not enough to say sorry—the public needs to know that he truly reformed.
Yet, even with a reformed persona, Galliano may not be accepted back by the public. Only time will tell. And in an industry where fashion is tantamount to celebrity, and where celebrity is image, and image is public adulation, Galliano has a steep hill to climb.
In the meantime, I'm just grateful he's not coming out with a tell-all book and made-for-TV movie for Lifetime.
Tags:
John Galliano