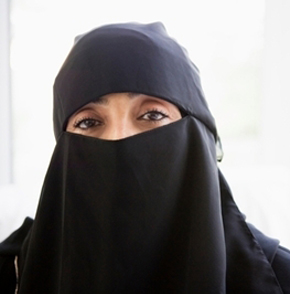 Two French Muslim women were fined for wearing niqabs, a veil worn traditionally by Islamic women that covers their entire face with exception of a slit for their eyes. This marks the first punishment given by a judge under France's "burqa ban" law that went to effect last April.
Hind Ahmas and Najate Nait Ali were convicted and fined by the court 120 and 80 Euros, respectively for wearing their face veils outside of the town hall in Meaux, a town located near Paris.
Last May, Ahmas and Ali purposely wore their veils to a town hall gathering that celebrated the birthday of Mayor Jean-Francois Cope, who also led the Union for Popular Majority, a conservative party that included French President Nicolas Sarkozy. In wearing the veils, the women were protesting the law that they asserted to attack their religious freedom.
Their punishment has reignited a contentious debate in Europe over the violation of Muslims and their religious rights. Anti-burqa laws have been implemented in Belgium and are being considered by other countries such as Italy and Switzerland.
Currently, Ahmas and Ali are appealing the verdict and have asserted that they will take their issue to the European Court of Human Rights.
---
Rhi Strayer is currently obsessed with Jeffrey Campbell shoes, sparkles, studs, and anything having to do with Lady Gaga.
All author posts