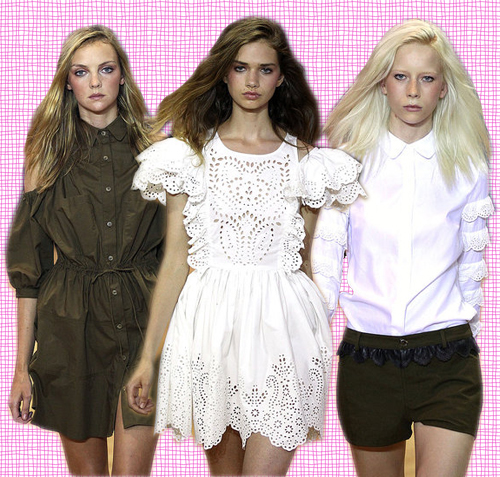 Indie actress, style icon, and designer Chloe Sevigny is back with her sophmore collaboration with Opening Ceremony.
The retro-inspired Resort 2012 collection will release on December 1st online and in Opening Ceremony stores.
Sevigny's first collection was a huge success with numerous publications praising the "punk-posh" line.  Featured on WhoWhatWear and worn by Rumi Neely, the line immediately inspired a cult following and consumer frenzy worldwide.
From the Courtney Love-ish baby doll dresses, to the line's cropped Robert Mapplethorpe printed tees, Sevigny has said that her first collection took inspiration from her adolescence in the early 90s.
This second collection promises to turn back the clock again with more inspiration culled from the spirited lives of the young with a fresh take on streetwear.
Opening Ceremony's blog says to "expect girlish eyeleted dresses, 80s-inspired ra ra skirts, 90s skate classics, fanny packs, high-tops."
Sevigny, keeping true to her hipster roots, also collaborated with skateboard brand, Vision Street Wear for some of the pieces. The result is a definitive collection that has the whimsical and electric energy of a skate circle in Tompkin Square Park. This collection is perhaps the most comprehensive translation of electro rhetoric to clothing there is.
It is obvious that Sevigny is after something very specific with her designs and has accomplished the often-elusive artistic goal of successful execution.
She proves herself to have true sartorial talent, and not just another celebrity taking advantage of fame to release poorly designed clothing in an already over-saturated market of collaborations. Yes, Jennifer Lopez, I'm talking to you.
But of course, the artful and thoughtful people at Opening Ceremony wouldn't be behind Sevigny if she couldn't flex.
If you have questions for Chloe Sevigny, Opening Ceremony is now taking tweets and emails for an interview they will be doing with her before the big debut.
The deadline to get your tweets and emails is by Wednesday, November 23, 2011. Read more here or your can email your questions to: blog@openingceremony.us
---

Sinta Jimenez is currently obsessed with Opening Ceremony collaborations, Band of Outsiders, warabi mochi from Temari Cafe, meteor showers, and finding a Jeff Buckley soul with a Jason Segel sense of humor.
All author posts