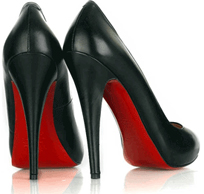 Earlier this year, luxury shoe designer Christian Louboutin filed suit against fashion house, Yves Saint Laurent claiming that YSL ripped off its red-sole shoe design by using the same shades of red.
As it turns out, the battle of the luxury titans may have ended, and designer, Christian Louboutin emerged…the loser.
While fighting heart and sole to ensure his red soles would be exclusive to his brand, Louboutin failed to make a compelling case.
Judge Victor Marrero presided over the court case and disagreed with Louboutin, stating that its 2008 patent from the U.S. Patent and trademark Office was "too broad," and that exclusively giving rights to a designer on a particular color would be unfair to other designers in the fashion industry.
The judge tossed out the lawsuit and issued a 30 page document basically stating YSL was free to design its red-soled shoes.
In the meantime Christian, chin up—we believe you and think your shoes are wonderful.
Tags:
Christian Louboutin
,
Yves Saint Laurent