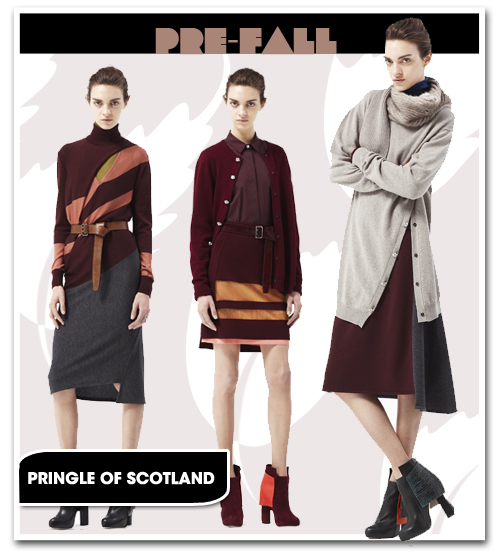 After four years at Balenciaga, Alistair Carr continues to show his creative talents at luxury knitwear brand, Pringle of Scotland.
His latest collection for pre-fall 2012 recreates archived looks from the brand's history, and showcases earth tones and graffiti layers with a twist—literally.
The collection features burgundy and tan colored cardigan twin sets with a twisted motif on front, while collars and seams are twisted as well. The classic Scottish argyle was nicely presented on sweaters that were bedazzled with acid-colored crystals. While the graffiti prints may have been a step out of what the brand is known for, they still keep to the brand's classic construction and clean tailoring.
The looks featured in "triple set"– that is, a chunky cashmere sweater, paired with thin legged trousers and a coat–are strong and masculine. The collection also shows off a series of black and burgundy dresses that are long and feminine. Shoes are layered with leather panels that can be pulled off (a collaboration that Carr took with shoe designer, Chrissie Morris).
In an interview with Vogue back in March, Carr said of his move to Pringle of Scotland that he was going "to take things, question them, and look at them from a different angle," a lesson he had learned from Balenciaga creative director Nicolas Ghesquière.
Carr proves with this latest collection that he has stayed true to this sentiment.
[nggallery id=134]