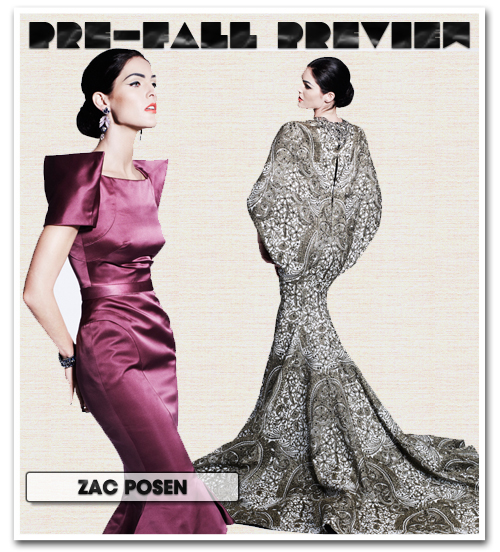 Zac Posen is the kind of designer who is pretty much guaranteed to have a retrospective at the Met in thirty or so years, and maybe another a few decades later. And it's hard to believe that it's been almost a decade since he, at 21 years old, first showed a collection.
It's a bit like watching a child star of the Drew Barrymore or Kirsten Dunst ilk grow up gracefully and awesomely–though they were wonderful from the get-go, they eventually assume full control of their voices and exuberance, make a movie like  The Virgin Suicides and solidify their icon status.
There has always been a strong sense of architecture underlying Posen's collections; it's just that it seems he has finally gotten a full guru-level mastery of his considerable talents.
After putting out several collections rife with frills and pomp and falling off his own horse a bit with two too-sober (yet still perfectly seamed) showings in Paris, Posen's Pre-Fall 2012 line is a balance of the two Zacs.
Each dress—no pants this go around, ladies—is something of a well planned piece of figure machinery on its own, but no art was sacrificed for structure.
The word chinoiserie has been thrown around a lot in describing the collection, but it fits in the sense that the clothes harken back to a time when the Far East was more kitschy for the American royalty he had in mind when designing, and less readily accessible. Nipped waists, his brilliant shattered glass seaming on the first white dress and a blouse with shoulders that would befit a Rolls-Royce Spirit of Ecstasy if she could choose her wardrobe. And though the shapes are dramatic and the silhouettes are almost cartoonishly luxurious at points (his pooling, caped damask gown could be a 1940s couture fashion plate), they're most definitely not unwearable.
My only wonder is at what he'll present in February—and if this is the Zac Posen that's here to stay.
[nggallery id=141]