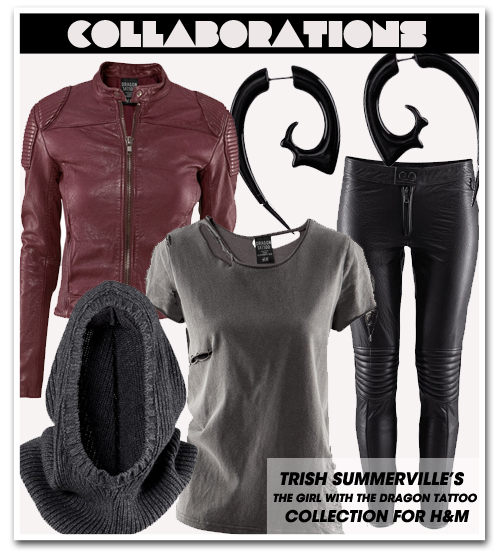 In a less than two weeks, you'll have the chance to harness your inner dark, man-hating side with H&M's 'Girl With The Dragon Tattoo' collection designed by Trish Summerville.
Not only is Summerville the designer of the collection, but she is also the movie's costume designer, so fans should be happy to know that this kick ass grunge meets goth capsule collection is legit Lisbeth Salander.
The 30-piece collection features a palette of reds, blacks, and grays of ripped shirts held together by safety pins, and slouchy hoodies paired with skinny leather and khaki pants.
And what is an anti-heroine without her acid gray denim? The denim pieces—skirt, jacket, and skinny jeans—look weathered to give it that tortured essence.
Of course it wouldn't be a movie inspired collection without the tank tops displaying the movie's " What is hidden in snow comes forth in the thaw" slogan.
The accessories in the collection are complimentary to the entire line—there are tribal inspired faux ear gauges, acid washed lace-up boots and shoes, and leather belts. Not to mention a totally awesome trench coat that emits total badass-ness.
The collection will range from $3.95-$199 and will be available in H&M stores and online on December 14; just before the movie's release on December 21.
Take a look at the entire collection below and tell us what your favorite piece is.
[imagebrowser id=136]