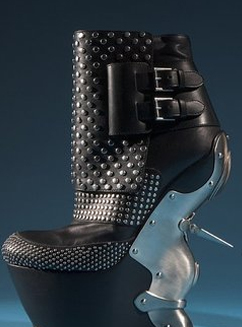 With the end of "Alexander McQueen's "Savage Beauty" exhibit, fashion fans can still see the amazing collection of Daphne Guinness, heir to the Guinness family fortune.
She has co-curated the "Daphne Guinness Exhibit" which will display over 100 of her personal designer garments and accessories.
The exhibit will feature the clothes of iconic designers like Alexander McQueen, Christian Dior, and Christian Lacroix, and Guinness will also include a few garments that she designed herself.
The exhibit opens September 16 at New York's FIT Museum, but you can catch a few glimpses of the pieces featured in the exhibit below.
---

Saron is a writer and student born in Ethiopia and raised in Washington, DC. She is incapable of keeping a phone for longer than a few months, exclusively wears Miss. Dior Cherie, and her guilty pleasures include any novel written by V.C. Andrews (don't judge), Essie's "Little Brown Dress", and Stoli. She is currently obsessed with the poetry of Edmund Wilson and The Arctic Monkey's latest album "AM".
All author posts