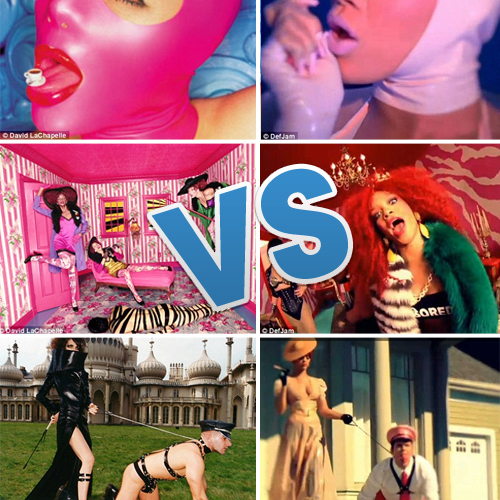 Famed photographer David LaChapelle, who last February claimed that pop-singer Rihanna ripped off his work for her "S&M" video, was granted the green light to pursue his multi-million dollar lawsuit against the singer and her record label for copyright infringement.
For those of you not in the know, LaChapelle's lawsuit claims that eight of the scenes in Rihanna's video "consisted of or contained prints" that too closely resembled a 2002 S&M editorial he shot for Vogue magazine.
And New York Judge, Shira Scheindlin agreed.
In her 32-page order, Scheindlin explained why LaChapelle had merit to his claim, stating that "the video appeared to copy protectable elements of his images."
Scheindlin noted these similarities by saying that the "pink room" scene—a part of the video which depicted Rihanna dominating a man in a pink room with striped walls—seemed to be lifted from Lachapelle's "Striped Face" photographs.
She noted other resemblances that included the caricatures of men with black tape, women with red wigs, and Rihanna herself wearing a pink latex suit in the video.
LaChapelle, who is a fan of Rihanna, said of the lawsuit, "This is not personal, it's strictly business. Musicians commonly pay to sample music or use someone's beats and there should be no difference when sampling an artist's visuals."
The pre-trial date is set for August 10, and names Rihanna, Black Dog Films and UMG Recordings, the company that happens to own Rihanna's record label, as defendants. Of course, Rihanna's defense team is counter suing LaChapelle on his claim, and it is certain that Rihanna will have to testify.
Ooooh. Things are about to get ugly and we'll be here to report the dirty details as they evolve.
Tags:
David LaChapelle
,
Rihanna