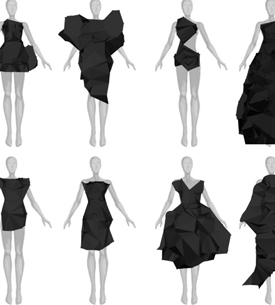 Space age fashion may not be a complete stranger to designers or the catwalk, but when it comes to the little black dress, we have yet to see one which truly catches the essence of the 21st century.
Continuum and its creator Mary Huan have taken the little black dress to the next level with a digital website where users can design their very own.
Part fashion house, part design studio, the web-based fashion label, Continuum, has started their "Computational Couture" project.
As a "design technologist", Mary Huang has invented  3-D software the allows women the freedom to digitally draw and design a little black dress, turn their design into a 3D model, and the software will export a cutting pattern to make a real dress.
So, what's so great about this?
Well, for starters, being able to digitally design your own dress completely eliminates the issue of vanity sizing, as it is your measurements and yours only.
And, no matter how funky or how space-agey your design is, Continuum will work hard to make sure your dream design comes true!
The dresses featured on the Continuum website are definitely not your typical little black dresses. A combination of haute couture and practical ready-to-wear designs, they look like giant origami pieces gone Star Trek.
Finally, the LBD has been given a much needed 2011 makeover!
Getting to doodle around with, and eventually design, your own dress? That is definitely something a girl could get used to!
Tags:
Continuum
,
LBD
,
Mary Huan