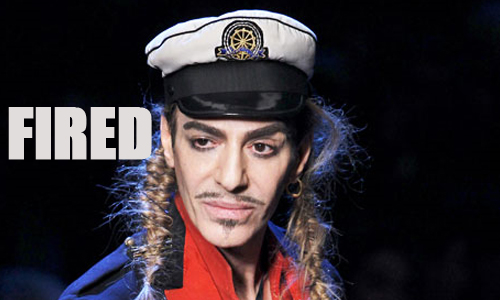 With the newly surfaced video of John Galliano clearly making anti-Semitic remarks and actress Natalie Portman publicly condemning the fashion designer, comes the final nail in the coffin that Dior has officially fired the leading couturier.
WWD is reporting that the dismissal came as a second complaint was filed against the designer alleging another anti-Semitic verbal assault.
Here is the official statement that was released today from Dior:
"Following the allegations of anti-Semitic statements that resulted in John Galliano being questioned by police on Thursday, February 24, Christian Dior immediately suspended its relationship with its designer, pending the outcome of the police investigation.

Today, in light of the deeply offensive statements and conduct by John Galliano in a video made public yesterday, Christian Dior has commenced termination proceedings against him.
The Dior fashion show is still slated to go on this Friday.