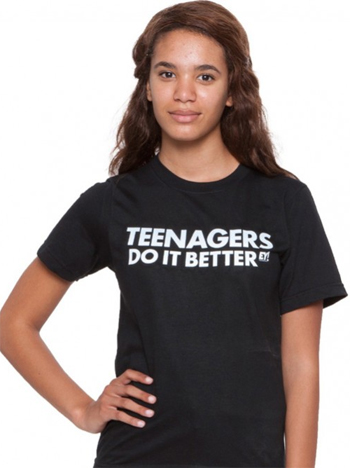 Just when we thought American Apparel CEO Dov Charney had reached his pervert threshold comes the release of new American Apparel t-shirt tagged with the slogan "Teenagers Do it Better (EY!)".
American Apparel teamed up with the controversial fashion magazine Electric Youth! to  design the teenaged shock-worthy shirts. Unsurprisingly, Electric Youth! also has had its fair share of attention due to its pages that have been laden with underage models in not-so-wholesome poses and states of undress.
Gimmick or not, it seems that either these shirts were not very well thought out, or Charney is a marketing genius who is getting his brand some attention by embracing his pervyness and sexual harassment charges.
Regardless, American Apparel has, if nothing else, built a brand based on pushing the envelope; and even a t-shirt with a cryptic, insensitive one-liner is serving its purpose, one way or another.
After all, we're talking about it, aren't we?
Tags:
American Apparel
,
Dov Charney
,
Electric Youth!