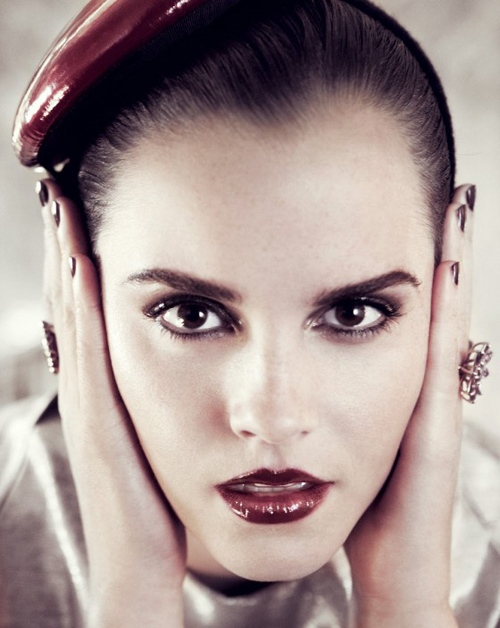 We thought that Emma Watson had said goodbye to her Harry Potter character when she decided to lop off all her hair.
That was just the beginning of her farewell to the series.
As we are set all to say goodbye to Harry Potter next month, so is Emma Watson in the July issue of Vogue that features her as an elegant and sexy young woman. With her bold, slicked-back pixie cut, deep set red lips, and old Hollywood actress glamour, Watson is saying definitively that Hermione Granger has left the building.
As you can imagine, it is hard to break away from a character that you've grown up playing. While Watson is no stranger to the world of fashion–signing on to become the face of Burberry and Lancome, she was, still to us, the little-miss-know-it-all Hermione Granger. But in this photo shoot for Vogue, it is evident that she is no longer that awkward little girl we fell in love with ten years ago.
Open the magazine to her spread and you are greeted with a series of sultry photos, courtesy of famed photographer Mario Testino, who features Watson draped in Miu Miu, Tom Ford, Dolce & Gabbana, and Alexander McQueen, looking stunning beyond belief. The collection of photos are proof that the 21-year old actress and up-and-coming fashion icon is all grown up and ready to explore both acting and fashion. Perhaps the editorial is her "coming-of-age" so to speak.
In the accompanying article, Watson addresses personal topics such as her co-star Daniel Radcliffe, life during and after Harry Potter, her personal connection to Hermione Granger, and surprisingly, her views on romance.
I guess our little girl has grown up!
It's a sad farewell to her beloved character. But cheer up Watson fans, because we haven't seen the last of her!
Rest assured, she will be popping up everywhere you turn within the next few months.
This issue of Vogue is just the beginning for Watson.
---
Rhi Strayer is currently obsessed with Jeffrey Campbell shoes, sparkles, studs, and anything having to do with Lady Gaga.
All author posts