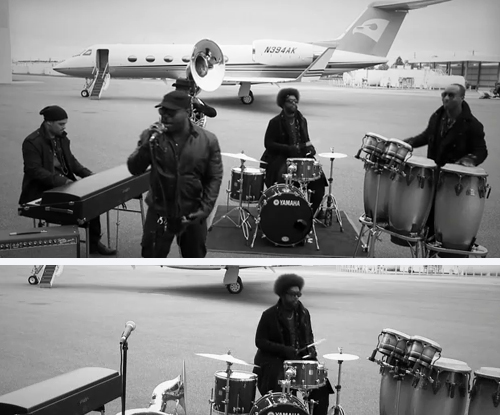 It's no secret that fashion designers have constantly turned to celebrities to spearhead their advertisements.
This approach, though sometimes criticized by those who believe that modeling should be left to, well, the models, serves a great purpose. But even those fashion enthusiasts who mourn the days when the true art of fashion didn't need to exploit someone's celebrity in order to gain notoriety, have to admit that John Varvatos' latest superstar casting is nothing short of genius.
The worlds of music and fashion have collided once more by way of John Varvatos' eponymous fall advertising campaign.
The Roots have just been tapped to front the label, and video captured from the the legendary group's exclusive performance on the New York tarmac where the  Varvatos fashion shoot took place, proves the combination of Varvatos' chic vagabond-ish designs mixed with The Roots bluesy, eccentric musical and stylistic tastes, make for pure magic.
Although the American fashion designer has had tremendous success with his own label, Varvatos' career involved long stints as head of menswear at both Calvin Klein and Ralph Lauren and he is also credited with the creation of the highly successful Polo Jeans Company.
Both fashion houses, although quite different, are more or less known for their take on the American classics.
Calvin Klein has its sleek simple designs and the many faces of Ralph Lauren center around that intrinsic all American élan. When looking at Varvatos' line, and especially the heavily layered, rebellious theme of his latest collection, it's hard to believe that the same man could have been a driving force in the success of both houses.
It's this gutsy approach at fashion that has, not only, garnered Varvatos the adoration of the industry, but also several accolades as well.
His latest choice is in some ways no surprise, with a career built upon the unexpected and pushing boundaries, we can all be sure, his Roots are firmly planted and will continue to reach beyond far beyond the anticipated.
---

Saron is a writer and student born in Ethiopia and raised in Washington, DC. She is incapable of keeping a phone for longer than a few months, exclusively wears Miss. Dior Cherie, and her guilty pleasures include any novel written by V.C. Andrews (don't judge), Essie's "Little Brown Dress", and Stoli. She is currently obsessed with the poetry of Edmund Wilson and The Arctic Monkey's latest album "AM".
All author posts