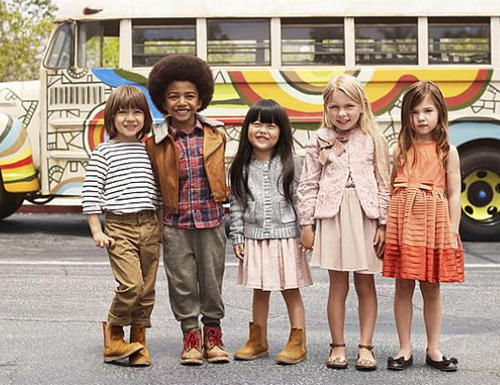 Coming this Fall 2011, H&M will be launching their new and super cute children's line, with proceeds from the collection, to benefit UNICEF's "All For Children" charity.
In 2009, H&M partnered up with the United Nations Children's Fund (UNICEF) for a five-year initiative, and backed it by donating 4.5 million USD.
Since their partnership began in 2004, H&M has been a strong supporter of UNICEF and their projects geared toward preventing children from dying of curable (or at least treatable) diseases. Their efforts include providing children healthcare, education, food, water, and emergency care, along with prevention of HIV/AIDS and campaigning for children's rights in 150 countries around the world.
The collection is comprised of adorable and playful clothes all designed within the Autumnal spectrum of color, ranging from tan, to coral, to nude, and pumpkin oranges. All of which have been decked out with all the fancy trimmings like bows, faux fur, and coveted cashmere. For the future fashionistas, there are pretty pink cropped sweaters and jackets, orange and floral print dresses and skirts, and an array of ballerina flats.
And for the young men, tan flight jackets, striped shirts, sweatshirts, hoodies, and suspenders.
The versatile line is set to hit stores this September, with 25 percent of the sales going immediately toward the 'All For Children Charity'.
---
Rhi Strayer is currently obsessed with Jeffrey Campbell shoes, sparkles, studs, and anything having to do with Lady Gaga.
All author posts