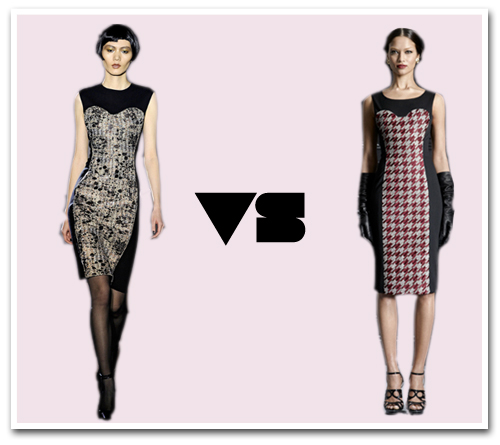 Left to right: Douglas Hannant's F/W 2011 Dress, Jason Wu's F/W 2012 Dress
Is imitation really the most sincere form of flattery?  Not in the world of fashion.
It seems, lately, that more and more designers are caught up in an accusation game of stealing each other's creations. Louboutin vs. YSL is one recent example, among many, of a brand accusing another brand of stealing, and now, fashion designer Jason Wu is the latest designer who has been accused of copying someone else's designs.
According to the New York Post, Jason Wu has been accused of copying a dress designed by Douglas Hannant. The dress in question is Hannant's form-fitting black dress with an abstract panel from his Fall 2011 collection. Wu has created a form-fitting black dress with a houndstooth pattern in his Fall 2012 collection that is said to look similar to Hannant's.
"If I knew that Jason Wu liked my dress so much, I would have sold it to him," said Hannant to the New York Post.
While the dresses are similar, they're different enough that we wouldn't necessarily call them identical, plus, it's not like the design is completely original.
What do you think? Is Jason Wu's dress a copy of Douglas Hannant's dress?
---

Bridget is a writer, stylist, and vintage clothing dealer based in Kennett Square, Pennsylvania. Bridget enjoys spending time with her boyfriend and guinea pig, and in her spare time sells vintage at local flea markets . Bridget is currently obsessed with Zooey Deschanel's wardrobe on New Girl, Moroccan food, and microcars.
All author posts