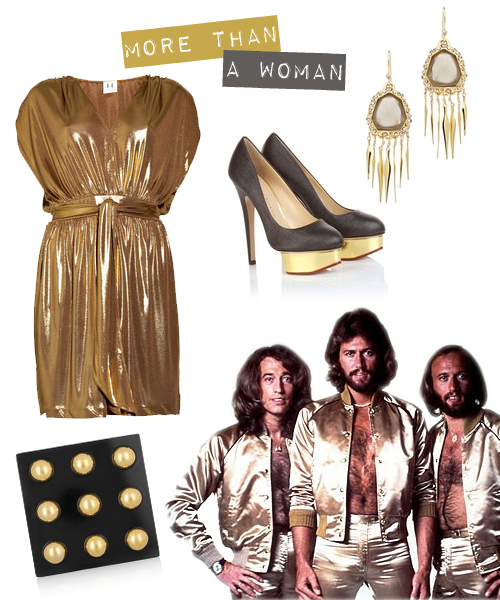 I don't know about you, but I for one am relieved to know that Robin Gibb, one-third of the iconic disco trio the Bee Gees, was released a few days ago from the hospital in England where he was being treated for an inflamed colon (TMI?).
In my mind, I prefer to keep the Gibb brothers frozen in time during their 1970s superstardom heyday.
While the Bee Gees experienced commercial ups and downs during the '60s and early '70s, the group really hit pay dirt when they shifted their music away from progressive pop/rock, American country and soul, and towards a fresh combination of R&B, soft rock, funk, soul and dance beats.
The Bee Gees' new signature sound featured tight three-part harmonies and Barry Gibb singing falsetto.
And close on the heels of their number one hits "Jive Talkin'" and "You Should be Dancing" came the cultural phenomenon and blockbuster success known as Saturday Night Fever.
America officially entered its hedonistic disco era, and the album became one of the best-selling soundtracks of all time. (Surely you have walked with a swagger down the street to "Stayin' Alive" as your personal theme song.)
Style-wise, the Bee Gees—along with John Travolta of course—were the poster boys for disco fashion: tight, flared pants; polyester shirts with pointy collars and unbuttoned down to there; double-knit polyester leisure suits; gold bling around the neck; platform shoes; feathered hair; and flashy fabrics.
You may be surprised, and perhaps even delighted, to know that some designers used shiny, synthetic materials in their Spring 2012 RTW collections, including Riccardo Tisci who sent sparkly disco ball suits down the runway for Givenchy.
Be ahead of the curve and rock the lamé look now by wearing this Halston Heritage Pleated lamé dress paired with Charlotte Olympia Dolly Raffia Platform Pumps and add complimentary accessories by Stella McCartney and Alexis Bittar.
You'll look Studio-54-extravagant and give a recovering Bee Gee a reason to smile across the pond.
How to get this look:
{dress} Halston Heritage Pleated lamé dress
{clutch} Stella McCartney Colette plexiglass square clutch
{earrings} Alexis Bittar Moonstone Fringe Earrings
{shoes} Charlotte Olympia Dolly Raffia Platform Pumps
Tags:
Bee Gees
,
Robin Gibb
,
Style Rocks