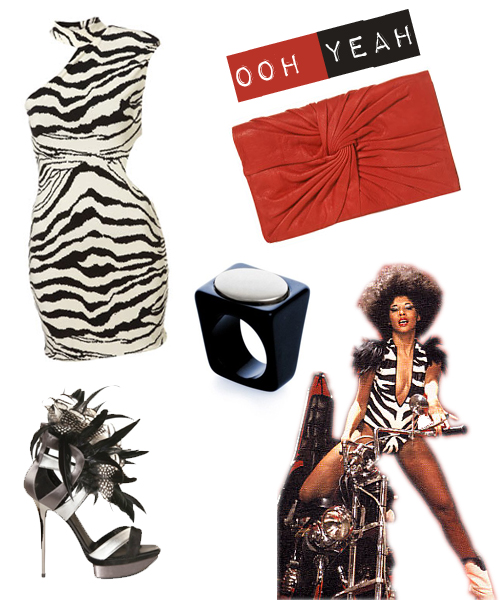 I'm totally intrigued by recent rumors that Madonna may be the musical act for this year's Super Bowl halftime show. While she might appear on stage as scantily clad as the cheerleaders on the sidelines, the Material Girl occupies a whole different stratospheric league of stardom.
But before she ever arrived on the scene with sexually provocative offerings such as Like a Virgin,  Erotica, and Hard Candy that made prim ladies clutch their pearls, another performer had helped blaze that feminist trail: flamboyant 1970s funk diva Betty Davis.
| | |
| --- | --- |
| | |
| …. | |
|  If I'm In Luck I Might Get Picked Up – Betty Davis | |
Betty Davis pushed a lot of things–buttons, boundaries, comfort zones. During her brief stint as Mrs. Miles Davis, she turned her husband on to Jimi Hendrix and Sly Stone, which influenced his seminal Bitches Brew album.
Her own discography is small and not a major commercial success, but her music was an innovative fusion of funk, soul and glam rock.
Betty delivered risqué songs like "He Was a Big Freak," "Nasty Gal" and "If I'm in Luck I Just Might Get Picked Up" with a visceral growl. A onetime model and student at F.I.T., she used fashion to express her bold, blatantly sexual persona. Her daring looks included booty shorts and silver thigh-high boots, pimped-out leotards, lace teddies with fishnets, and a demure white dress hiked up to expose her garters.
Religious groups protested many of her concert appearances, and radio stations refused to play some of her too-hot-to-handle tunes. (Sound familiar? Remember when MTV banned the racy video for "Justify My Love"?) Everyone from Li'l Kim to Lady Gaga and Rihanna to Madge Ciccone herself owe Ms. Davis a triumphant girl power fist bump.
Push the envelope with your own wardrobe by rocking this Tiger Cutout Bodycon Dress paired with Feather & Calfskin Sandals. I guarantee you'll do Betty proud. Ooh, Yeah.
How to get this look:
{dress} Tiger Cutout Bodycon Dress By Dress Up Topshop
{shoes} 130mm Silk, Feather & Calfskin Sandals  
{ring} Belle Noel Navy Resin and Silver Oval Ring
{purse} Ruched Front Purse
Tags:
Betty Davis