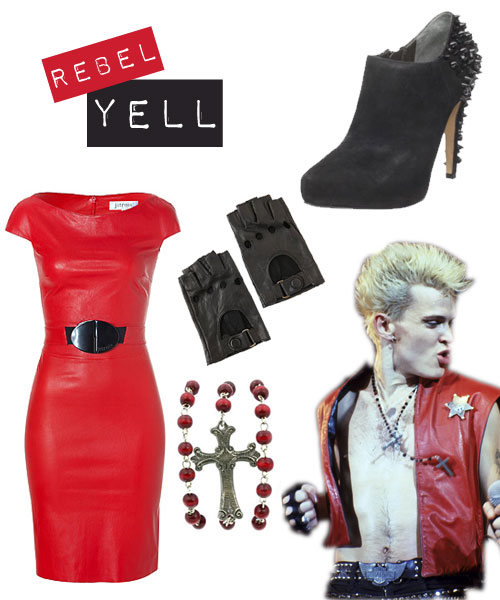 Did you know that Billy Idol is currently on tour in California? I'm not even sure if he has a new album out, but I'll always remember him from his '80s heyday—snarling that famous sneer and sporting that spiky platinum blond hair.
Billy Idol combined his raw and loud punk roots with New Wave, pop, hard rock and dance beats.
Since punk was, as Billy has pointed out, as much about "style and attitude," it's no surprise that he was one of the first artists propelled to stardom by MTV. The videos for "White Wedding," "Dancing With Myself" and "Rebel Yell" showed off his bad-boy good looks, bare-chestedness and defiant stance.
His aggressive look was all about ornate crucifixes, shredded t-shirts, fingerless leather gloves, tight leather pants and leather vests. (Did I mention leather?) The influence of his style icons The Sex Pistols and James Dean is pretty obvious.
Buck convention and emulate your Idol by rocking a Jitrois Rouge Belted Stretch-Leather Dress, a pair of Sam Edelman's Ankle Booties, and accessorize with an Ettika Cross Wrap Rosary Bracelet.
You'll co-opt his live-for-today punk swagger and irreverence without becoming a sex, drugs and rock 'n' roll cliché.
What you'll need to rock this look:
Jitrois Rouge Belted Stretch-Leather Dress | $3,030
 Sam Edelman Women's Renzo Ankle Bootie | $225
Ettika Cross Wrap Rosary Bracelet | $75
---
Jennifer Oh is currently obsessed with anything by Opening Ceremony, Pinkberry original-flavored froyo, and "Episodes" on Showtime.
All author posts