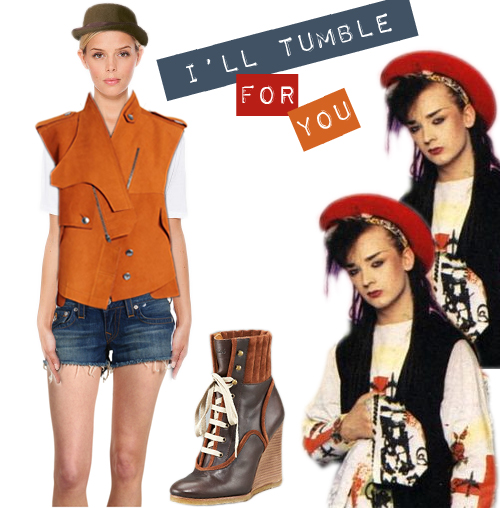 As you are undoubtedly aware, MTV recently celebrated its 30th birthday. I'm old enough to remember when MTV actually played music videos–yes, WAAAY back in the day–and I'll never forget the first time I saw the video for Culture Club's "Do You Really Want to Hurt Me?"
Sure the song was soulful, catchy, and part of the New Romantic movement in pop music emerging from England, but the REAL revelation was the androgynous chameleon named Boy George.
His look was all about flamboyant, slouchy clothes with a bowler hat and vest; bright lipstick and winged-out eyeliner; and long hair braided with colorful ribbons. He was like a doll come to life! Boy George became an instant '80s style icon, natch.
If you want to relive your Culture Clubbing days, but don't want to look like you got stuck in a time warp, try this modern version while summer is still here–crimping iron optional.
True Religion Joey Cut-Off in Dakota Sky Dark
T BY ALEXANDER WANG Classic Pocket T-Shirt
ASOS Bowler Hat With Chocolate Trim
Chloe Lace-Up Wedge Bootie
---
Jennifer Oh is currently obsessed with anything by Opening Ceremony, Pinkberry original-flavored froyo, and "Episodes" on Showtime.
All author posts