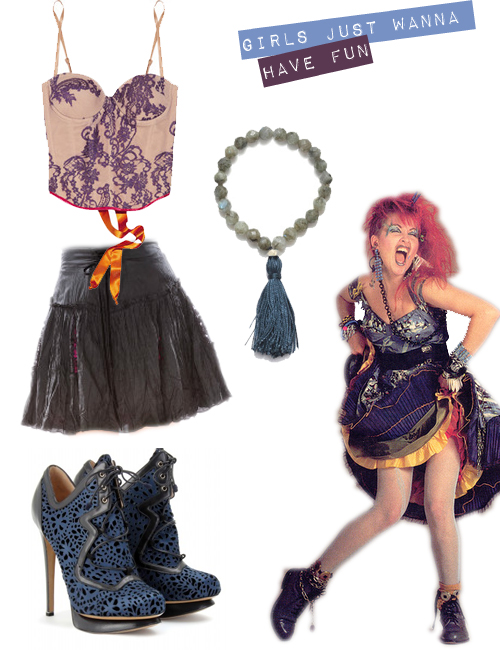 It might sound corny but when the leaves turn vivid shades of red, yellow and orange (like they're doing right now), the song that always pops into my head is that sappy "True Colors" tune from old Kodak commercials.
I can't believe it has already been 25 years since Cyndi Lauper released that #1 hit. She was truly the '80s most colorfully wacky icon.
Bursting onto the scene in 1983 with her debut studio album She's So Unusual, Cyndi Lauper quickly dominated MTV as well as the charts with catchy girl-empowering songs like "Girls Just Wanna Have Fun" and "She Bop". They were a bright mix of pop, dance, post-punk and new wave, and featured her distinctive girly voice.
As a complement to her music, her image was irreverent and fun-n'-flirty. Who can forget the rainbow-hued hair, wild make-up, bustier tops, layered ruffled skirts, loud color combos, and piled-on funky jewelry? (You'll also recall that it was the "more is more" era.)
These days, Nicki Minaj and Lady Gaga, among others, carry on Cyndi's riotous style.
You'll never be mistaken for a shrinking violet by rocking Cyndi Lauper's look with this broom skirt by Betsey Johnson, a Rosamosario lace and stretch-mesh corset, and a pair of Nicholas Kirkwood Laser Cut Satin Lace-Ups.
The pop star once said, "On my darkest days, I wear my brightest colors." Words to live by as winter approaches!
How to get this look:
{skirt} Betsey Johnson Broomstick Skirt
{shoes} Nicholas Kirkwood Laser Cut Satin Lace-Ups
{bracelet} Satya Jewelry Resilience Bracelet Women
{top} Rosamosario Lace and stretch-mesh corset
Tags:
Cyndi Lauper