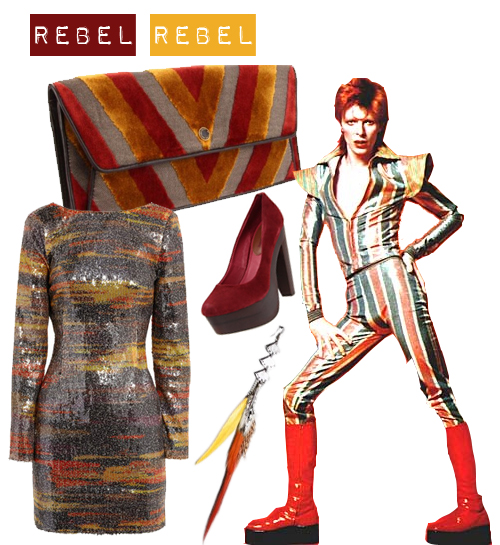 I hope you caught the promo spot a few weeks ago which had the Glee cast doing a cover of David Bowie's "Fashion" to promote the Fashion's Night Out event in New York.
If not, let me tell you that it was fun and stylish with McKinley High's motley crew strutting down the catwalk in Marc Jacobs. It was also just another example of how much David Bowie remains a style icon and fixture in pop culture.
Hailed as one of rock music's greatest innovators and a pioneer of glam rock, David Bowie gained stardom in the early '70s with his androgynous alter ego Ziggy Stardust.
He said in an interview that as an alien rock star from Mars, "this whole [Ziggy] thing is gonna be about clothes." His striking outfits–heavily influenced by Japanese Kabuki as well as modern sci-fi–featured metallics, vibrant geometric prints and platform shoes. And to complement the flamboyant costumes, he wore red spiky hair and theatrical make-up.
In the past three decades since retiring the short-lived but cultish Ziggy persona, David Bowie has experimented with diverse musical genres like punk, folk, soul, funk, industrial and electronica, perpetually reinventing his music and his image like no other. Bowie's countless contemporaries include Marilyn Manson, Lady Gaga and, yes, Mötley Crüe.
Transform yourself into a futuristic Lady Stardust by rocking an Antik Batik magenta sequin dress with a Madison Harding women's platform and a spritz of Thierry Mugler's Alien perfume. Getting a red mullet is up to you.
GET THE LOOK
Marc by Marc Jacobs Airmail Jagz Long Clutch | $278 | Get it!
Antik Batik Magenta Sequin Dress with | $610 | Get it!
Madison Harding Women's Ray platform Pump | $275 | Get it!
Gilded lily Tribal Feather Earring | $88 | Get it!
---
Jennifer Oh is currently obsessed with anything by Opening Ceremony, Pinkberry original-flavored froyo, and "Episodes" on Showtime.
All author posts