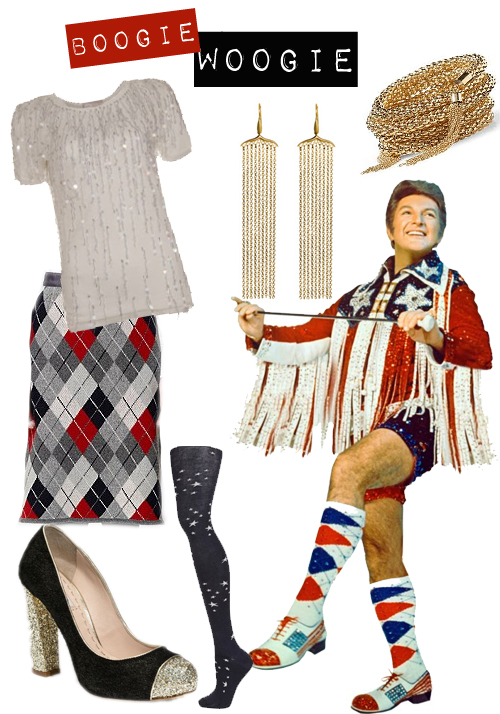 HBO Films recently announced that they're producing a TV movie about Liberace called "Behind the Candelabra" with Michael Douglas in the starring role and Matt Damon as his lover. (Steven Soderbergh is directing.) How awesome is that?
I think of Liberace as the King of Superlatives: his costumes were the most outrageously opulent; his jewelry was the flashiest; his lifestyle was the most lavish (imagine his mansions and gilded pianos on MTV Cribs!); and his wavy hair was the most shellacked. He remains the embodiment of flamboyant excess, even though he died almost 25 years ago.
Of course, he was also a piano prodigy whose musical repertoire included irreverent renditions of classical, cocktail jazz and movie soundtracks. But the man who became the highest-paid entertainer in the world during the '50s through '70s put on shows, not concerts.
Under the bright lights of Vegas, Mr. Showmanship was always bedecked in a blinding explosion of rhinestones, diamonds, and fur.
"Slip into something a little more spectacular" by rocking this argyle skirt, Lanvin sequin fringe top, and a pair of Fendi lace-up saddle platforms.
A bit of sparkle a day will let you live the Liberace fantasy—in a non-gaudy way.
{skirt} Argyle Skirt
{top} Lanvin Sequin Fringe Top
{shoes} Miu Miu Glitter & Calf Hair Pump
{bracelet} Hive & Honey Rope Wrap Bracelet
{earrings} Real Jewels Long Chain Earrings
{tights} Star Knit Tights
Tags:
Liberace
,
Style Rocks