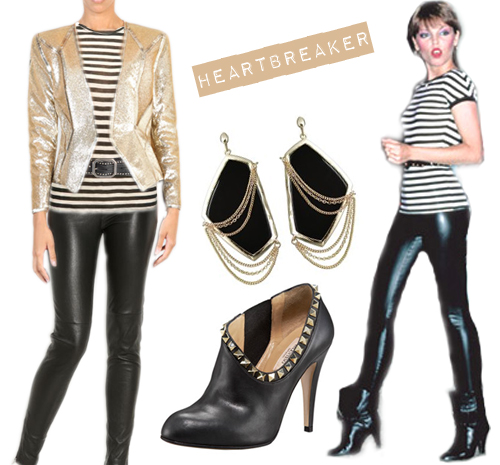 When I say the words "girl power," what songs pop into your head?
Christina Aguilera's "Fighter"? "Independent Women" by Destiny's Child?
Perhaps, ahem, Kelis's "Milkshake"?
For me, the gold standard will always be Pat Benatar's swaggering invitation to "Hit Me With Your Best Shot." Her videos on MTV in the early '80s showcased her tough AND sexy style, featuring tight leather pants and leotards; dark eyeliner and heavy rouge; and short, aggressive hair.
As a rock chick who combined edginess with femininity, Pat Benatar stood out from the defiant, black-clad Joan Jett as well as the girly, punchy Go-Go's and paved the way for stars like Pink and Gwen Stefani.
This fall, show off some Benatar-ish self-confidence and rock two of the season's hottest trends–stripes and leather. Just add your own strut and snarl.
Jacket: Prada Blazer | Details…
Shirt: Proenza Schouler Striped Long Sleeve T-Shirt | Details…
Pants: Leith Zip Hem Leather Leggings | Details…
Shoe: Valentino Rockstud Asymmetric Bootie | Details…
Belt: HTC Belt | Details
Earrings: Kavita Earring, Black | Details…
---
Jennifer Oh is currently obsessed with anything by Opening Ceremony, Pinkberry original-flavored froyo, and "Episodes" on Showtime.
All author posts