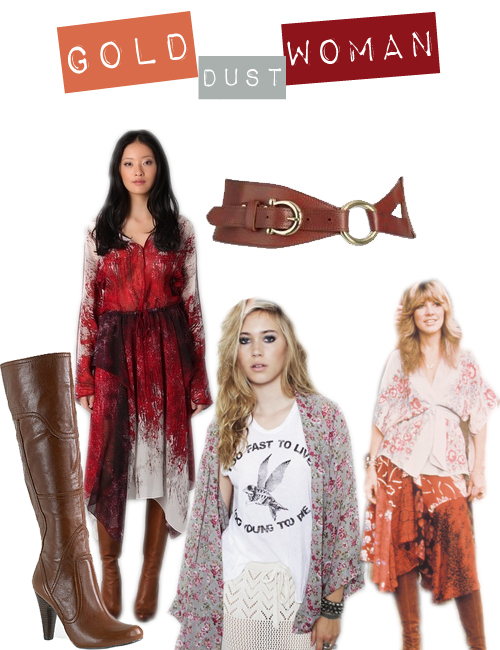 When I recently read that Stevie Nicks will play the Fillmore in San Francisco next week as part of her In Your Dreams tour, I was hoping that she'd also swing by the new Fillmore in Silver Spring, MD. (Alas, no such luck.)
It would be really cool to see her perform songs from her latest album which showcases her trademark mix of folk, rock and pop–and of course to see her mystical "Bella Donna/Witchy Woman" persona come to life on stage.
Long before the Olsen Twins, Sienna Miller or Nicole Richie ever experimented with boho chic, Stevie Nicks crafted that look into an enduring bohemian/gypsy/hippie image that she admits has made her "unique and timeless."
When she joined Fleetwood Mac in the mid-'70s, her husky voice and sexy, pouty presence gave the band a captivating frontwoman. And the band, having shifted their musical focus from British blues to polished pop and soft rock, soon had an eponymous hit album, which they followed up with the blockbuster Rumours.
During her Fleetwood Mac days and especially as a solo artist, Stevie's signature style has always included a mane of long, blond hair plus some combo of filmy chiffon, berets, shawls, crochet, layers of lace and, perhaps most famously, six-inch suede platform boots. Her clothing even becomes integral to some of the songs at her live concerts as she twirls her shawls around in a trance-like dance ("Stand Back" anyone?).
You can easily take some cues from "The Reigning Queen of Rock and Roll" without becoming a caricature by pairing a  Bcbgmaxazria Gabriella Abstract Forest Print Dress with a Blu moon Kimono Jacket (optional) and a pair of GUESS Pozina Pump Heel Leather Boots.
You'll be alluring and mysterious. Just save your Wiccan hat for Halloween.
Bcbgmaxazria Gabriella Abstract Forest Print Dress| $498
Hive & Honey Elastic Turn-Back Belt |  $48.00
---
Jennifer Oh is currently obsessed with anything by Opening Ceremony, Pinkberry original-flavored froyo, and "Episodes" on Showtime.
All author posts