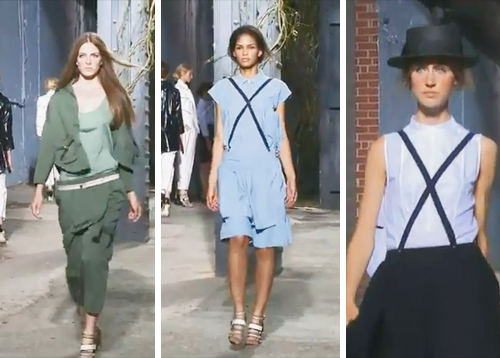 L.A. brand Band of Outsiders, continues to captivate us with its trademark boyish charm in their RTW 2012 Spring/Summer Women's Collection at New York Fashion Week.
Launched in 2004 by designer Scott Sternberg, the brand's aim is to reinvent vintage inspired looks with sharp tailored and slim fitting wear.
Sternberg's talent is his ability to take outdated looks and materialize them into something modern.

While his recent men's  lookbook featured Rupert Grint and Tom Felton in smart cool guy looks, his women's collection is just as intelligent.
Sternberg's New York Fashion Week presentation for his Spring/Summer 2012 womenswear collection revealed a basic color pallet of solid colors like whites, blues and blacks. Feminine details were abundantly present, more so than in previous collections,  but even so, Sternberg's individual looks still retained their  boyish flair.
Abundant in the collection were billowy skirts that were accompanied by fitted  tailored tops or masculine broad shouldered blazers and harness-like suspenders.
With these reinvented looks, Band of Outsiders has redefined femininity with their 2012 Spring Collection.