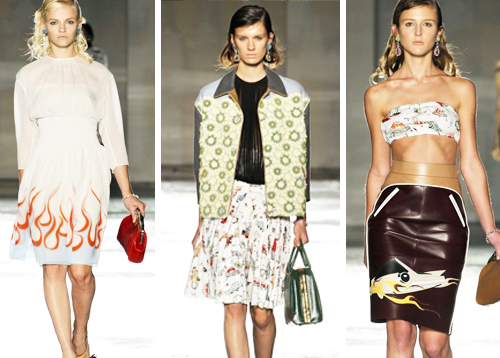 Prada has presented a collection that is risky, yet subtle for their Spring 2012 collection  presented at Milan Fashion Week. The designs were inspired by pin-ups, hot rods, and drag races; and a fusion of soft fabrics and powerful prints dominate the selection of Prada garments.
Christened "Donna e Motori," which translates to "women and cars," the line pays tribute to the fashion emblems of the 1950s. Noting the decade's feminine innocence and its rough neck appeal, the collection features flirty tops and silk dresses with faux flame prints running along the hemline.
The color palette is soft and feminine with hints of corn-flower blue, pine green, and deeper tones of red wine.
Prada's signature color blocking was an added touch.
The line incorporates literal prints, which featured actual cars, delicate pleated skirts, satin swing coats, bandeau tops, and figure-hugging polychromatic leather skirts.
Models donned stiletto sandals that featured car flames shooting off the heel and clutches with auto body images riding across the front. Cat eye glasses, head scarves, and vintage styled one-piece bathing suits modeled like cars that hug every curve complete the illusion of the 1950s vintage and retro vibe.