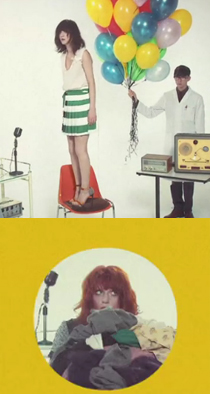 Florence Welch stars alongside veteran model Irina Lazareanu and Kate Moss's best friend, Sadie Frost in Markus Lupfer's new Resort 2012 film.
The short, fun and campy clip is a fashion mockumentary titled The Puzzle of the Mysterious Mind and reminds us of one of those 1960's low-tech science videos.
But, instead of teaching us about biology, the quirky video takes us on a tour inside each of the girls' minds and their fashion sensibilities.
Margo Stiley, who plays a doctor that studies the three girls' behaviors and conditions, narrates as the quirky scientist in a cute pencil skirt and cat eye glasses.
Irina plays an eccentric party girl whose condition is simply 'never wanting the party to stop', while Sadie suffers from an obsession with asymmetry.
As for the dazzling Florence Welch, she plays a hoarder, and is just about the only person who could make hoarding look sexy, and somewhat tempting, as she writhes on top of a pile of clothes from Lupfer's new collection.
Now, that is what hoarding should look like!
The tongue-in-cheek video features Lupfer's newest collection of cute knit dresses, skirts, pastels, and crocodile prints!
Click play below to watch the entertaining Puzzle of the Mysterious Mind and experience the intricacies of our fashionable brains.
We promise you won't be disappointed.
---
Rhi Strayer is currently obsessed with Jeffrey Campbell shoes, sparkles, studs, and anything having to do with Lady Gaga.
All author posts