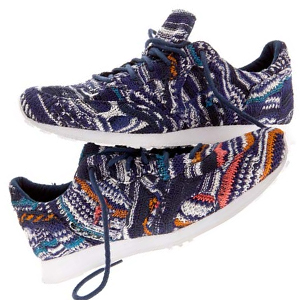 Making a debut appearance at Milan Fashion Week, a collaboration between Missoni and Converse in the form of the Auckland Racer was seen all over the runway to kick off Missoni's 2011 Spring/Summer menswear collection.
This is not the first time the brands have collaborated together.  In 2010, both labels partnered to create a Missoni for Chuck Taylor All Stars Converse collection that proved to be very popular.
But this time around, Italian textile house Missoni is using one of the shoe brand's lesser known silhouettes, the Auckland Racer.
Originally, the Auckland Racer was a 1970's running sneaker meant for the simple purpose of getting fit and in shape while staying in style.
But now that they have been recreated by Missoni, the Auckland Racers have never looked better, or more fashion forward than they do now.
Together, Missoni and Converse have reconstructed this design to create two new styles using the ever popular Missoni knit pattern along with a highly textured material, so the shoes will hold up when running through the streets. No doubt these fashionably functional sneakers will be a godsend to any exercise enthusiast who is tired of the drab, everyday white tennis shoe.
With their funky abstract pattern, which brings to mind a design once seen on a Cosby sweater, the new and improved Auckland Racers will spice up your morning routine by making you look good while running.
No details have been released as to where or even when you can buy these babies, since they are fresh off the runway.
All I know is working out never looked better!
---
Rhi Strayer is currently obsessed with Jeffrey Campbell shoes, sparkles, studs, and anything having to do with Lady Gaga.
All author posts