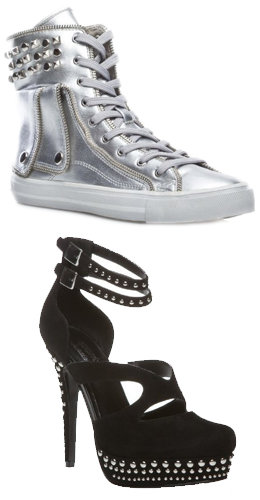 Celeb super-blogger, master of tasteless social commentary, and resident celebrity antagonist are just a few descriptors for Perez Hilton.
However, it seems his snarky persona has taken a turn to a more charitable direction. Now adding philanthropist to his catalog of titles, Hilton has teamed up with shoe retailer, ShoeDazzle to design two pairs of Perez-approved kicks for their Celebrity Shoe Design Program for Charity.
The shoes ooze with Hilton's trademark sass and flamboyance. His first design, a studded black faux-suede platform pump, outfitted with both ankle straps and cutouts lend themselves toward a feisty night out. For an equally glitzy daytime look, Perez has designed a unisex metallic-silver, high-top sneaker which incorporates Hilton's favored studs and zippers that are often seen in his wardrobe.
One hundred percent of the proceeds from Hilton's shoe sales will be donated to the not-for-profit organization Gay, Lesbian & Straight Education Network (GLSEN), which specializes in sexuality issues in primary and secondary schools.
Regarding his collaboration, Hilton has released this statement about the project:
"I'm especially thrilled that we are going to be able to raise money for my charity of choice this year, GLSEN – the Gay Lesbian & Straight Education Network. Their vital work is helping youth all over America! Buying some fierce shoes can do a lot of good too, and that's gonna make this holiday season truly faboosh!"
The shoes will be available on November 11th exclusively at ShoeDazzle.com and ShoeDazzle showrooms.
Tags:
Perez Hilton
,
ShoeDazzle