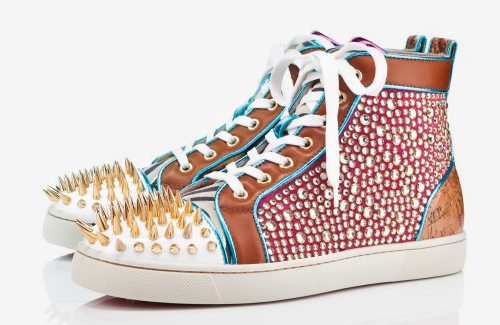 Christian Louboutin, famous for his iconic "red sole" heels has taken it upon himself to create a men's shoe so bold, it could possibly be used as a weapon.
Outfitted with rhinestones, zebra fur, and a white rubber canvas toe covered in metal spikes, the "No Limit" men's sneaker is a part of Louboutin's 2012 Spring/Summer Collection.
This men's shoe is easily Louboutin's feistiest, yet. The vibrant colors, animal prints and spikes can be seen throughout his latest line. Brilliantly mixing prints, patterns and textures, Louboutin has taken his classics and given them an unexpected edge.
From snakeskin stilettos to beaded pumps and leopard wedges, the men's sneaker is just the tip of the designer's creative iceberg.
This season, Louboutin has indeed designed a collection that has no limits.
Tags:
Christian Louboutin