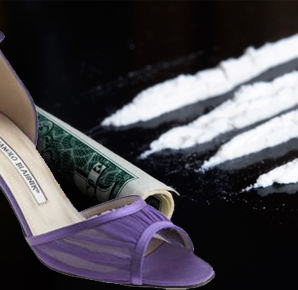 The phrase crime of fashion has taken on a whole new meaning–just ask the Spanish drug smugglers who created replica Manolo Blahnik heels out of cocaine. Yes, these crafty dealers dyed and molded the drugs, then broke them down in order to redistribute them in Europe.
Although the crime was deplorable, the execution was pretty impressive.
The shoes, worth $70,000 a pop were trafficked between Colombia and Barcelona for almost three years before six dealers were caught with $630,000 worth of cocaine at the Barcelona Airport. The fashion fugitives were caught after a high-speed car chase.
This crime represents the tip of the iceberg when it comes to the new and innovative ways international drug dealers are smuggling their goods across borders. The New York Post shares: "In the past, Spanish police have discovered cocaine shipments disguised as replica sculptures, a "plaster cast" protecting a man's broken leg, and even an entire 42-piece tea set."
---

Saron is a writer and student born in Ethiopia and raised in Washington, DC. She is incapable of keeping a phone for longer than a few months, exclusively wears Miss. Dior Cherie, and her guilty pleasures include any novel written by V.C. Andrews (don't judge), Essie's "Little Brown Dress", and Stoli. She is currently obsessed with the poetry of Edmund Wilson and The Arctic Monkey's latest album "AM".
All author posts