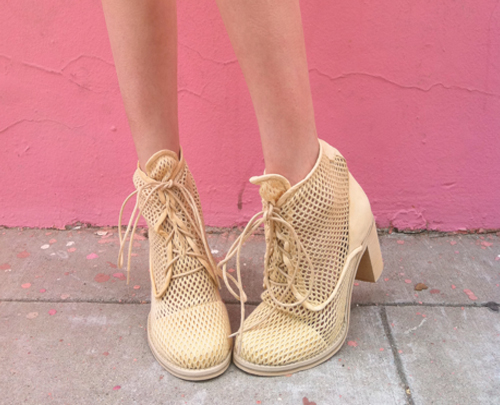 Boots and summer don't usually mix well. And every summer,  I grieve when I have to bid farewell to beloved booties.
Really, it just breaks my heart to have to push them to the back of my closet for an entire season!
But perhaps there IS a solution…

Jeffrey Campbell, who happens to be one of my favorite shoe designers, and the West Coast vintage store Wasteland, have combined their brilliant minds to create the ultimate shoe for summer: The Catch Boot.
For years, I have prayed for something like this to come along.
And Campbell and Wasteland, you have answered those prayers with your mesh netted, vanilla cream shoes.
They will keep me cool on the balmiest of nights, and I can wear them with just about anything thanks to the architectural heel and neutral color.
I'll  be sure to pair with a floral dress or romper for daytime fun-in-the-sun antics, and a dreamy, white maxi dress complete with over-sized hat and sunglasses for evening beach parties.
It's safe to say that these 1990-inspired original shoes are going to be a hit this summer.
---
Rhi Strayer is currently obsessed with Jeffrey Campbell shoes, sparkles, studs, and anything having to do with Lady Gaga.
All author posts