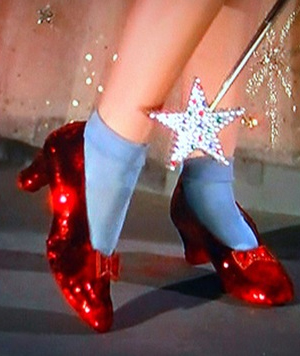 Chances are no matter what decade you grew up in, The Wizard of Oz was a part of your childhood.
Watching Dorothy, Toto and company traipse up the yellow brick road in 1939 was something viewers wanted to be a part of—and thanks to a California auction house,  fans can finally get a piece of the famed film.
A pair of the ruby red slippers worn by Judy Garland, who played Dorothy in the film, will be up for auction on Dec. 16.
The pair is one of four that were made for the classic film, and are believed to have been worn in the famed scene where Dorothy clicks her heels to go home.
This is the only chance to get the ruby shoes, as the last three pairs all have homes elsewhere. One is on display at the Smithsonian Museum in D.C., one is privately owned and the last was stolen from the Judy Garland museum in Minnesota.
The auction is being held by California auction house, Profiles in History. It will be sold alongside other Hollywood memorabilia. However, you've got to have pretty deep pockets to make a bid. Joe Maddalena, owner of Profiles in History, estimates that the shoes will earn at least $2-3 million.
Although these shoes won't take you home after clicking your heels three times, for a piece of iconic pop culture, it's worth the hefty price tag.
---

Yohana Desta is currently obsessed with Butch Cassidy and the Sundance
Kid, everything Dave Grohl does, and listening to Arctic Monkeys on
repeat.
All author posts