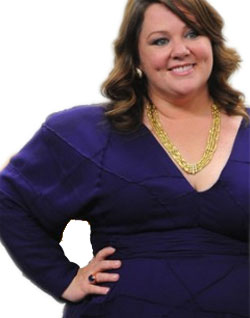 You may know actress Melissa McCarthy by her hilarious lead role on the CBS television series Mike and Molly, or maybe as her unquestionably funny, Emmy award-winning character she played in Bridesmaids.
But who would have guessed that the comedian would be interested in fashion?
In an interview with the Hollywood Reporter, McCarthy announced that she would be launching her own plus-sized clothing line.
McCarthy explains that her inspiration for her line came from the fact that she can't find anything in her size that doesn't make her look like a "98-year-old woman or a 14-year-old hooker."
And, when you think about it, there is some truth to that notion for plus-sized girls, the options are very limited.
When the actress was in her teens, she and friend Brian Atwood, now a famous shoe designer, would flip through the pages of Vogue magazine and fantasize about having their own collections.
After high school, McCarthy briefly studied clothing and textiles before dropping out Southern Illinois University.
Hopefully, McCarthy will design something well worth her efforts.
---
Rhi Strayer is currently obsessed with Jeffrey Campbell shoes, sparkles, studs, and anything having to do with Lady Gaga.
All author posts